---
What Sets the Linear® Entry Pro Access Control System Apart?
---
The Entry Pro telephone entry and access system is our newest addition to the Linear® commercial access control line.  The Entry Pro series offers three models to meet the secure access needs of gated and multi-tenant residential communities:   our 7-inch touchscreen model and two 4.3-inch display models. We've outlined below the many features and benefits that make our latest Entry Pro telephone entry systems a win-win for both end-users and dealers in any commercial installation.
Dealer Benefits
The new Linear Entry Pro Telephone Entry lineup provides affordable, unparalleled performance. Your commercial customers will be thrilled to have browser-based access control and multi-door telephone entry in an all-in-one unit. With cutting-edge hardware and three different models to manage single or multi-door buildings, the possibilities are endless for commercial access control dealers. Take a look at these key features: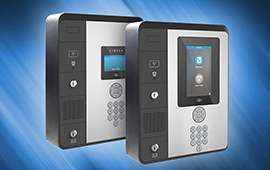 Linear EP-402 Standalone Telephone Entry & Access System
Packed with in-demand features, the system includes motion sensors, ambient light sensors and an optional HD IP camera
The system is out of the box ready to install for two doors. Plus, it is easily upgradeable with the purchase of a license key
The full color 4.3-inch LED screen features adjustable backlighting and is easy to read in direct sun. It can also be customized with text and images
Versatile, this model includes 2 I/O ports, 2 Doors, 4 Readers
Includes MegaCode™ Receiver, Power Transformer and mounting hardware
Flexibility and value: the system is compatible with most popular long-range readers and most 3rd party VoIP adapters. Its rugged design features a water-resistant stainless-steel faceplate, which allows for higher reliability function in rain, sleet and snow
Offers additional security with a 3-point locking system and optional postal access with key
The Linear EP-736 Entry Pro has the same capabilities as the EP-436 but with a larger a 7-inch touch screen display.
End-Users' Delight
We designed the Entry Pro to enable small businesses, gated communities, and those living in multi-dwelling residential buildings to have more reliable access control capabilities. All the features that make this new line easy to sell for dealers are what end users will like as well.  Features like our innovative user interface that is easily viewed in all weather conditions – even in direct sunlight so there's no more struggling to punch in the proper code during the daytime! Plus, Entry Pro users will appreciate improvements like crystal clear two-way audio, network stability and enhanced weather-resistant housing and seals.
Recent Improvements
The Entry Pro recently underwent some firmware upgrades which are beneficial to both the dealer and consumer. Some key features include:
Enhanced network communication protocols which greatly improved server-client communications for larger data intensive networks
Added security features and disabled unnecessary ports (open ports increases susceptibility to hackers gaining access to the system and cyber attacks)
Added common vulnerabilities and exposures (CVE) which is a is a list of entries for publicly known cybersecurity vulnerabilities
If you're a dealer looking for more information or want to place an order, contact your local Sales Representative. For residents who want a better and secure access control system for your community, find a dealer near you!