---
Why Dealers Choose the Linear® AE-100 Telephone Entry System
---
For over 40 years, Linear® access control systems have had an impressive reputation of providing commercial customers with solutions that keep them safe while striving to help our dealers be successful. Telephone entry systems are a perfect example of the solutions we produce to generate customer trust and dealer loyalty. Here we'll explore the features of the Linear AE-100 telephone entry system and the many reasons our dealers continue to see success with their commercial installations.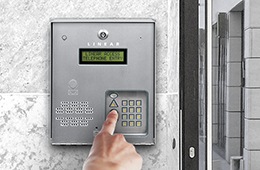 Dealers' Go-To Solution 
The Linear AE-100 telephone entry system is the last tele-entry product out of the fan-favorite AE series mold. The AE series became well-known throughout the industry because it meets the needs that the commercial access market demands. This includes delivering an intuitive, easy-to-use system for consumers packed with proven technology and programming capabilities that make for a smooth and hassle-free installation for professionals. Maintaining the system is a simple task as well; professional installers and dealers have the ability to program the directory and entry codes locally using the keypad or remotely with a touch tone telephone.
One of the many benefits dealers continue to experience from this system is that it can be used in any commercial installation. Some examples include, utilizing the system in a lobby of a multi-dwelling unit (MDU) such as an apartment complex or outside of an office building or gated community.
Features and Advantages
There are many features and advantages with the AE-100 telephone entry system, including its easy-to-use interface. Users can easily scroll through the directory names and codes; plus, display programming prompts and voice help is available in several different languages. Other great features of this model include:
Many installation choices including surface, recessed and gooseneck mounting
Accepts a total of 125 directory listings or stand-alone entry codes
TTY jack for connection to text communication for the hearing impaired
Simple network capability with up to four units which allows transferring programming data from "master" unit to other sub-units
If you're interested in learning more about the Linear AE-100 telephone entry system or are looking to make a purchase, contact your Regional Sales Manager today!
©2020 Nortek Security & Control LLC. All rights reserved. Linear is a registered trademark of Nortek Security & Control LLC.