---
Announcing Our Two New Linear® Garage Door Operators: The Brightest and the Smartest
---
By: Annette Keller
Our two new Linear® Smart Garage Door Operators are here and better than ever featuring the latest technologies.  The technological advancements designed into the Linear LDCO863B and Linear LDCO841 operators give homeowners a new level of convenience and security. Both series are compatible and easily integrated with smart home systems such as the ELAN® control system, Amazon Alexa™, and Google Home.
When we say the brightest, we're talking about exceptional wall-to-wall illumination with the Linear LDCO863B operator. Its three LED panels give off a total of 4,100 lumens, the highest lumens of any residential opener. With that degree of brightness, you can offer the extra sense of safety and security homeowners feel is so important today. Plus, the Linear LDCO863B operator uses the most advanced lighting technologies on the market incorporating LED panels that are known for their efficiency, long life and dependability. This means homeowners will never have to change a bulb again and won't be left in the dark.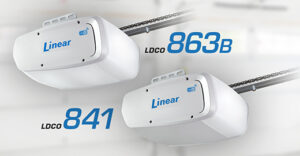 Moreover, both operators features a contemporary, low-profile design while delivering the functionality homeowners request most often: smartphone app-based status, notifications and control. Homeowners also get state-of-the-art, real-time garage door monitoring and control from any mobile device with the Linear smart app. The smart app is accessed easily with a Wi-Fi or internet connection and allows users to assign custom access and permissions for up to 10 authorized users, and schedule door and light operation.
A single Linear garage door operator can satisfy many customer applications due to the variety of options available. Customers get the choice of a belt or chain drive and between a seven, eight or 10-foot T-rail or carriage house I-rail. They also can opt for a miniature key ring transmitter, a multi-button visor transmitter, a wireless keypad or all three. Convenience and security are enhanced with Linear MegaCode remote controls, which operate over long range and employ high-security technology. Sealing the deal is that both operators offer ultra-smooth and quiet performance with variable speed and soft start/stop operation and employ an exceptionally quiet motor.
Five years ago, who would have ever thought garage door lighting would be this bright or operators would be this smart?  With nearly 60 years of experience, the innovations keep coming from Linear perimeter access solutions.
For more information, check out the Linear LDCO863B product page and LDCO841 product page.